Termites In Your Central Florida Home Are A Big Cause For Concern
Some pests make their presence visible, while others sneak in under the radar. Termites fall into the latter category, which is unfortunate because they are one of the most damaging pests to have in your Tampa area home. Termites eat tunnels through the wooden structures in your house, and if left alone for long enough, they can do serious damage. Protecting your home requires professional termite control. Green Flag Services can help.
Our Termite Control Offerings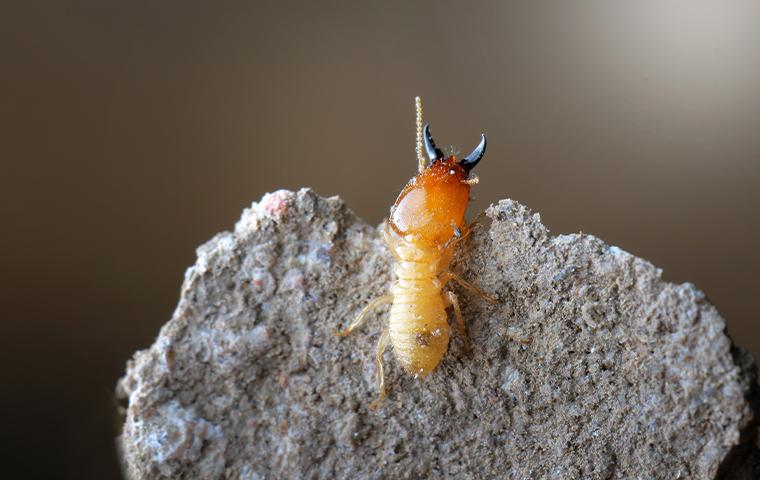 We begin your termite control by performing a free inspection of your house. We'll look in the areas of your home where signs of termite activity are most often present. If we find signs of activity, we'll use Termatrac, a tool that uses radar to detect movement without having to drill into your walls. By identifying areas of heavy activity, we can target our treatments to eliminate your termite infestation faster.
The Sentricon® System With Always Active™
Green Flag Services is a certified installer and maintainer of the Sentricon® System with Always Active™. Sentricon® with Always Active™ is a termite baiting system. We will install bait stations at regular intervals into the soil around the perimeter of your house.
The bait in these stations is proven to be more attractive to termites than wood cellulose. When a termite takes the bait, it not only alerts other termites to its location but also brings the bait back to the colony, eventually wiping out the entire colony.
Home Treatment & Protection
Using scientific information about termite behavior, the Sentricon® system ends the food chain needed by the queen and her colony for survival. With the proven power to wipe out future house-hungry termite generations, Sentricon gives you complete termite protection.
Starting now. Take no prisoners. Using scientifically engineered bait to naturally enter their food chain, the queen and her entire colony are decimated. For good, and it begins working immediately if visible, active termites feed on the bait found in our Recruit®AG (above-ground) bait stations.
Two things termites hate: Sentricon and Alaska. Unless you live in Alaska, termites are underfoot. In fact, an average of 5 million U.S. homes each are infested by termites each year. Don't expect your homeowner's insurance to cover damages. To them, it's something you could and should have prevented.
Our specialists aren't just trained, they're certified.
Termites are too big of a threat for hit-or-miss, do-it-yourself attempts to protect your biggest investment. Our Certified Sentricon Specialists™ must pass intensive training on the installation and maintenance of complete home protection. Twenty years and 4+ million homes later, your peace of mind remains uncompromised.
Science trumps termites. The science behind Sentricon leaves termites helpless because they can't tell the active ingredient is lethal. And in lab tests when given the choice, termites ate nearly 10 times more bait than wood.
Fumigation
If you have a drywood termite infestation, we perform fumigation treatments to eliminate them. We will tent your entire structure and fumigate it. These treatments work in just one day.
Wood-Destroying Organism Reports
If you are in the process of buying or selling a home, your lender may require a Wood Destroying Organism Report. Green Flag Services offers this service. We will inspect the house, write up the report, and file it with the appropriate parties.
Scary Termite Facts
Here are three statistics that illustrate just how bad termites can be:
1. U.S. homeowners spend an estimated $5 billion on termite control and termite-related repairs.
2. Termite damage affects an estimated 600,000 homes in the U.S. each year.
3. The average homeowner will spend $3,000 to repair damage caused by termites.
Guaranteed Termite Control To Protect Your Orlando Home
When you choose Green Flag Services for your subterranean, Formosan, or drywood termite control, you'll receive service backed by our $1 million repair and retreatment warranty. If you believe your home or a home you want to purchase is affected by termites or other wood-destroying organisms, call Green Flag Services, LLC today. Without a proper inspection, you might find yourself with a big problem and a large repair bill in the future.
Termites are more than just a regional problem. Across the United States, homeowners are impacted by termite infestations each day. Though the bugs are small, they can cause big concerns. Schedule your termite inspection in Lake Nona Region, Baldwin Park, Deland, Port Orange, Daytona and Lake Mary, FL today by calling Green Flag Services at 888-441-1BUG (1284). Contact us for all your residential and commercial pest control needs.
Request Your Free Inspection
Complete the form below to schedule your no obligation inspection.