Have you been finding types of small spiders around your Orlando home? Are you afraid of spiders, and seeing just one is enough to make you want to move out? You don't have to let spiders run you out of your own home in Orlando, not when you can have them dealt with by a phone call.
You need a professional team, and we are the Orlando pest control company for the job. Our team can remove any spider problem and ensure that they don't return to bother you. Reach out to us at Green Flag Services to learn more about our spider pest control options.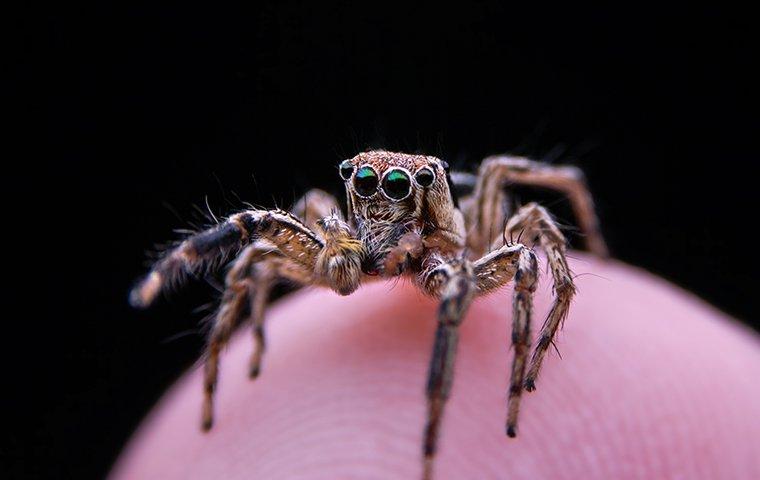 Types Of Spiders In Orlando
Do you know what types of spiders are in the Orlando area? Spiders are all different despite their similar features and common looks. However, if you identify which spiders are invading your home, you could take better action against them. Here are a few of the more common household spiders you could find infesting your home:
Jumping spiders
Wolf spiders
Green lynx spiders
Crab spiders
Orb-weaver spiders
Aside from the orb-weaver spiders, most do not spin webs and stalk prey on the ground. In particular, the wolf spider is one of the most common spiders people find in their homes and are well adept at camouflage. Most spiders will find a dark, undisturbed location in your home and set up their nesting area for an extended stay unless eradicated.
Are Spiders Dangerous Enough To Kill People
People are afraid of spiders because there is always the potential danger when its spotted. This danger could be as simple as a spider inducing mild panic to being bitten and having a full medical emergency on your hands that could be fatal if not treated. Almost all types of spiders can cause a person to break out into a rash or itching fit caused by a minor allergic reaction.
However, the real fear comes from the common household spiders that leave a painful bite. The initial bite is often the worst part, and most spiders don't do so unless provoked. Black widows and brown recluse spiders are most famous for how deadly their bite can be, but as long as you seek immediate medical attention, it should not be fatal.
Five Natural Spider Prevention Tips
You don't have to be afraid of spiders, not when we can effectively put your fears to rest by clearing your home of them. We can also give you tips and different ways to kill spiders, so they don't come back inside. Here are five natural prevention tips that you can easily use:
Repair any leaks or cracks around your foundation.
Install a barrier of rocks or mulch around your home to keep your lawn from touching your foundation.
Keep any tools or chopped wood stored away from entry points of the home.
Store your trash in a sealed container and away from the house to discourse insects that could attract spiders.
Cut your grass short and mow it regularly to eliminate a potential hiding spot.
By following these few steps, you can deter spiders from multiplying and amassing around your home. These tips focus on your yard, as that is where you should start your plan of deterrence. If you stop them in the yard, they won't make it inside.
The Best Way To Keep Spiders Away
If you're looking for the best ways to kill spiders, you should give us a call today at Green Flag Services. A professional team can help you tackle any pest problem efficiently that can provide you with peace of mind. We at Green Flag Services can handle any types of small spiders that invade your home.
What's more, if you give us a call, we can let you know about all the different pests in our area of expertise. Our team is always professional, and we use top-of-the-line tools and methods to aid in our work. Get started with Green Flag Services, and let our 55 years of high-quality experience speak for itself.