You may not know much about the black widow spider, but you know that you don't want to be bitten by one. The question is, would knowing more about these dangerous eight-legged foes help you better keep them out of your home? The answer is, absolutely yes! The more you know about black widows, the better you will be able to stay safe and avoid their terrible venom. To help you with this today, here is our comprehensive guide to black widow spider control for your Orlando home.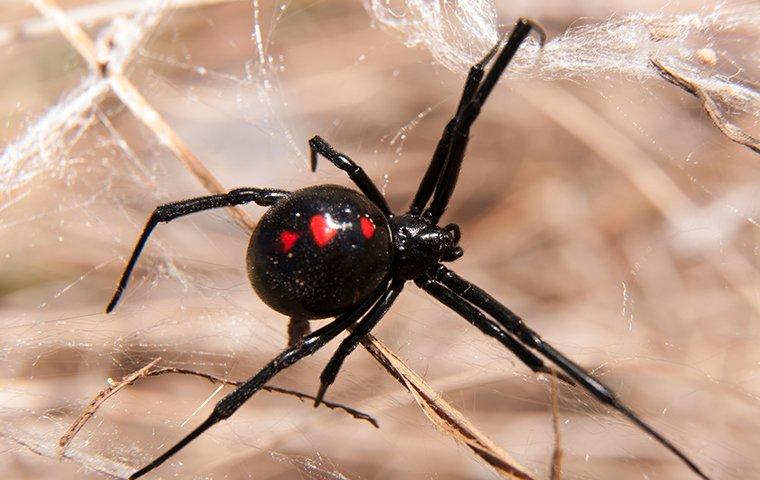 What Are Black Widow Spiders?
Black widows are one of two dangerous spiders that live here in the U.S. They are best known for their black bodies and the distinct red hourglass figure on the underside of their abdomen. Black widow spiders are typically anywhere from 1 ½ to 1 ⅜ inch long and prefer to live in environments of 70 degrees or higher. These capable spiders will build their webs close to the ground in irregular patterns. Once their web is complete, they will stay close by and wait for their prey (insects) to become entangled. Female black widows are known for consuming their mates, however, this does not happen 100 percent of the time.
How Dangerous Are Black Widow Spiders?
The good news is that a bite from a black widow spider is rarely fatal. As long as you are not an infant, elderly, or have any preexisting medical conditions that make you more susceptible to a black widow bite, you should have nothing to worry about. That is except for the laundry list of painful and uncomfortable symptoms that come with being bitten. Here are some common symptoms associated with black widow bites:
Pain and swelling that can spread from the area of the bite to your stomach, back, or chest
Severe stomach cramps
Chills
Nausea
Sweating
If you suspect you have been bitten by a black widow, seek medical attention immediately. Although your risk of dying from a bite is low, swift action will help reduce symptoms and lower your chance of more serious problems.
Prevention Tips For Black Widows
Black widows enter into homes for two main reasons: to find food and to seek shelter. To prevent black widows from entering into your home, use these following tips:
Use some liquid cement or a caulking gun to seal up cracks, holes, and gaps in your home's exterior.
Make sure all of your exterior doors are equipped with door sweeps.
Check weather stripping around windows and doors, and make sure it is in good condition.
Inspect window and door screens around your home, and make sure they are in good order.
Keep your home clean and free of clutter.
Store leftover foods inside airtight containers after each meal.
Repair leaks in and around your home.
Turn exterior lights off at night, or invest in insect repellent bulbs.
The Absolute Best Solution To Black Widows
Whether you have spotted a black widow in your Orlando home, or you are looking for a way to keep pests in general from causing you and your family trouble, you need Green Flag Services. We have comprehensive pest control plans designed to combat even the most invasive and dangerous pests. With several accommodations and awards to back our reputation, you will never have to wonder if you made the right choice. Want to learn more about our services? Give us a call. One of our friendly representatives would be happy to talk you through your options and help find one that best suits you and your home's individual needs.