In nature, termites are essential to plant life's natural death and decay. Their activity helps speed along the process of erosion, emulsion, and the eventual new growth that springs forth from properly fertilized soil. On the other hand, termites in residential areas are incredibly destructive pests. Billions of dollars are spent annually on termite damage repair in the United States, affecting over 600,000 homes each year. The problem is termites quietly infest homes and properties, so if you've discovered active termites in your Orlando home, they've probably been there a lot longer than you think.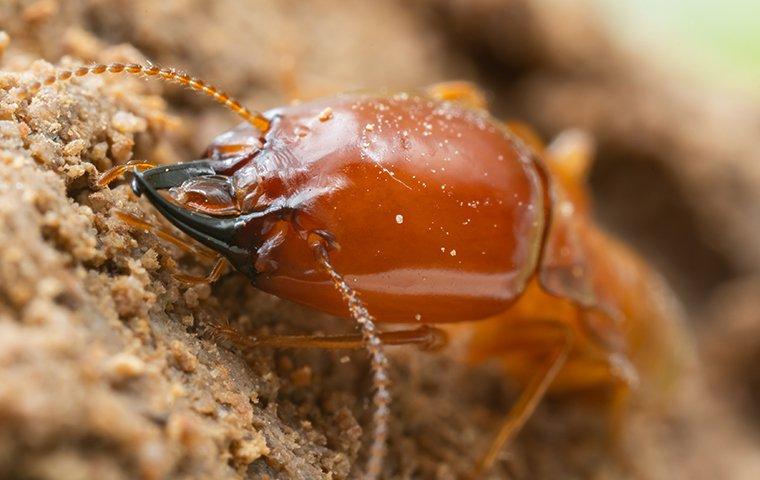 What Do Termites Look Like?
In the rare chance that you see a termite outside of its tunnels, there's a strong possibility you'll confuse it for an ant. These pests are typically 1/8 to 1/4 of an inch in length with soft, cream-colored bodies and bulbous heads. This description may not sound like anything you have seen. Still, their body shape is vaguely similar to an ant, and it's difficult to distinguish differences on a creature of that size, so this mistake is prevalent among homeowners with termite infestations.
What Is The Best Way To Identify Termite Damage?
Early stages of termite infestations offer minimal warning signs that are easy to overlook, but more extensive evidence of termite damage is difficult to miss:
Pinholes in walls and wooden fixtures.
Intricate maze-like galleries in wood.
Piles of debris that resemble sawdust, also known as frass.
Dry, crumbly wood.
Wood that sounds hollow when it's tapped or knocked on.
Discolored and sagging drywall.
Overly-creaky floorboards.
Jammed doors and windows that don't open easily.
Multiple winged reproductive termites within the home.
Unfortunately, termite damage is also similar to carpenter ant damage. The most reliable way to know you have an infestation is with confirmation from a local pest control company specializing in termite control.
Is There A Way To Prevent Termites For Good?
Termite prevention isn't as easy as it sounds. While termite season only lasts for a few months in the spring, most termites can infest year-round by tunneling underground. They will find any way possible to infiltrate your home, even through cracks in the foundation, so you need to be meticulous to prevent termites on your own effectively:
Seal up any cracks in the foundation.
Limit the amount of wood-to-soil contact around your property.
Install a two-foot-tall stone or metal barrier between your home and the ground.
A trench of pea gravel around the foundation of your home will also deter termite infestations.
Store firewood in a location away from the exterior of your home and elevated from the ground.
Address moisture problems around your home and property by aerating your lawn, fixing leaky pipes, and repairing extensive water damage.
While at-home prevention will reduce your chances of a termite infestation, it isn't a complete guarantee that they'll stay away. The only guaranteed protection against termites is with assistance from your local pest control company.
Professional Termite Control In Orlando
An extensive enough termite infestation will inflict significant damage to your home in only a few years, so if you think you have termites in your home, you need professional Orlando termite control. Not all pest control companies are trained in exterminating termites, though, and even fewer offer eco-friendly treatment alternatives. If you're looking to get rid of termites naturally, then you're looking for Green Flag Services.
We use the highest quality eco-friendly pest control products in our treatments, so you can be sure to receive the best service with minimal ecological repercussions when you hire our company. We offer emergency and same-day services whenever possible, provide thorough inspections, and offer both re-service and money-back guarantees. We make sure our customers are completely satisfied with our work, so get in contact with us today to learn more about our treatment options.