Don't panic – they may look creepy, but silverfish aren't dangerous to have in your Orlando home. Silverfish are common nuisance pests in the United States, and though they're harmless to your health and home, they still cause irritating problems when they infest homes and properties. A silverfish infestation on your property may even be a sign of other underlying issues as well, so it's always good to know about what attracts these pests and how to keep them away.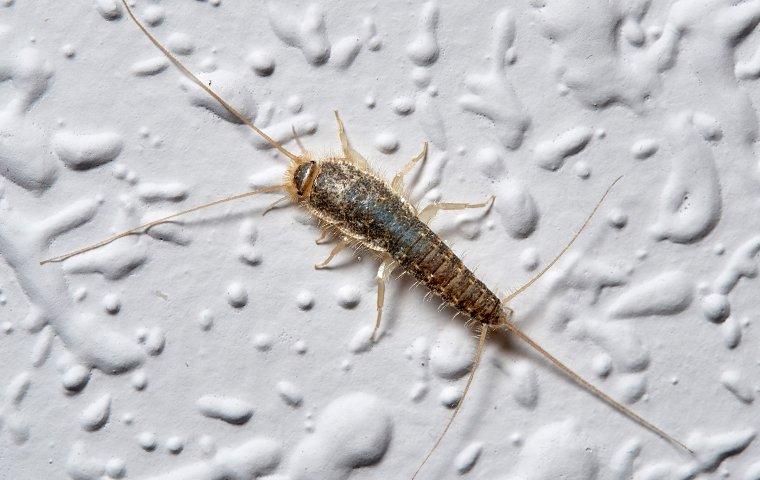 What Do Silverfish Look Like?
Silverfish are tiny, primitive, wingless pests with a penchant for lurking in the shadows. They're roughly ½ to 3/4 of an inch long with silvery-gray scales and three hair-thin bristles at the end of their tails. Their bodies are flat and tapered, resembling a fish or shiny halved carrot. Their common name comes from their appearance paired with the way they move – their frantic scurrying almost resembles a fish swimming in water.
Where Do Silverfish Hide In Orlando Homes?
These pests have trouble retaining moisture, so silverfish live in dark, damp environments. In nature, their most common hiding spots are under leaf piles, within rotting wood, and in thick underbrush. Homes may not have leaf piles or thick underbrush, but some places retain moisture:
Basements
Sink cupboards
Bathrooms
Laundry rooms
Kitchens
Garages
Sheds
Silverfish populations are especially bad in homes with extensive water damage caused by leaky pipes, broken shingles, and damaged siding. If you've discovered silverfish in your Orlando home, you'll want to check your home for any signs of moisture problems.
What Kind Of Damage Can Silverfish Cause?
Even though they're not dangerous pests, silverfish will create problems in your home. Large enough silverfish infestations will trigger allergy and asthma complications, but most of their problematic behavior revolves around their eating habits. Silverfish live on starches, carbohydrates, and proteins, and they're not picky about where it comes from:
Grains
Fruits
Vegetables
Wallpaper
Glue
Books
Clothing
Cereals
Pantry foods
Pet food
Hair and fur
Food contamination is a big issue with silverfish infestations, so proper food storage is essential to deter these pests. Other tips for prevention include regular vacuuming, sealing up potential entry points around your home, and addressing moisture issues in your home and around your property. The biggest problem is the cosmetic damage they inflict on walls, books, clothing, and upholstered furniture. These items are much more costly to replace, so get professional pest control to prevent further cosmetic damage.
The Best Way To Keep Silverfish Out Of Your Home
It's always good to stay proactive about preventing pests, but it's not a practical solution. Pests like silverfish will find even the smallest cracks to get inside your home despite your best efforts. Silverfish are also highly resistant to most pesticides, making them difficult to exterminate on your own, if not impossible. The best way to get rid of silverfish is with a reliable, eco-friendly Orlando pest control company like Green Flag Services.
Our highly trained pest control experts provide effective and affordable pest control treatments that are both family-friendly and safe for the environment. With our company, you won't have to compromise your health with more traditional methods that use dangerous chemicals; our pesticides derive from all-natural plant products that gently biodegrade back into the earth. Our treatments also come with re-treatment and money-back guarantees, so if you're not satisfied with our services, then neither are we! Pests don't have to be dangerous to cause problems, so get in contact with us today to learn more about our treatment options.