There are many different types of ants that live here in Orlando. Many are happy to stay outdoors and will rarely find their way inside our area homes and businesses. One species that is known for invading homes is the acrobat ant. Luckily, the Orlando pest control experts at Green Flag Services know all about this species and how to get rid of them. If you are interested in learning how to identify and deal with acrobat ants and other types of ants here in Orlando, this is what you need to know.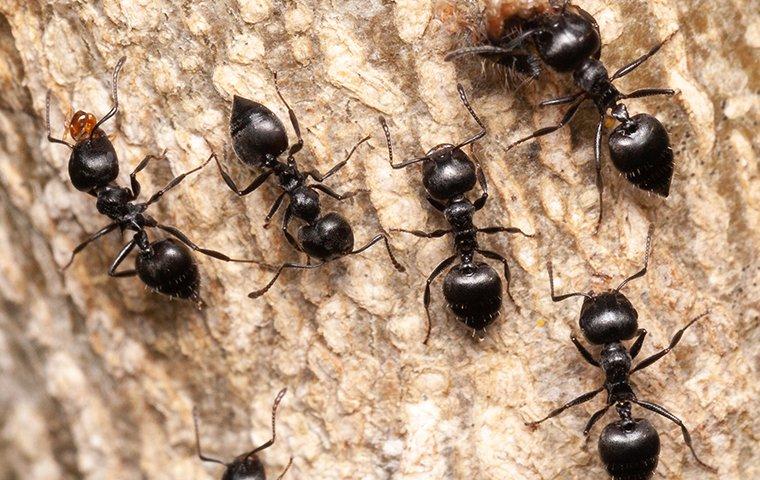 The Types Of Ants That Invade Orlando Homes
Acrobat ants are just one of many species of ants that live in our area. Some of the most common species include ghost ants, pharaoh ants, Argentine ants, and fire ants. Here is a basic description of each.
An acrobat ant is 1/8 of an inch long, light brown to black, and is sometimes multi-colored; this ant will raise its abdomen over its head when it feels threatened.
A ghost ant is 1/16 inch long with a dark brown head and thorax with a light yellow rear and legs.
A pharaoh ant is 1/16 of an inch long, pale yellow, and has a darker-colored abdomen.
An Argentine ant is 1/16 to 1/4 inch and is dark brown or black.
A fire ant is reddish brown and about 1/8 inch long; it has a stinger and builds mound nests in yards.
Most types of ants found in our area build their nests underground. Some species, however, will build indoors, acrobat ants included.
The Problems Acrobat Ants Can Cause In Your Home
Acrobat ants cause a lot of the same problems other local ants do. They invade living areas and are incredibly annoying. It is not uncommon for acrobat ants to crawl over left-out food or pantry items, contaminating them in the process. If they can, these pests will contaminate every food item in your house. Another problem acrobat ants cause is when they crawl into electrical equipment. When crawling around inside larger electronics like AC units, these pests can cause short circuits when they remove insulation from the wiring.
Easy & Effective Acrobat Ant Prevention Tips
If you are looking for an answer to how to prevent ants from getting into your home, we recommend starting with some DIY ant control solutions. Here are just a few DIY ant pest control measures you can use to defend your home.
Seal your home's exterior by repairing window and door screens, installing door sweeps, and filling in holes, gaps, and cracks.
Keep your home clean and your living areas tidy.
Address moisture issues in and around your home.
Store food inside airtight containers.
Clean out your pet's food and water bowls after they finish eating.
Following these suggestions can lessen your chances of an ant infestation.
Acrobat Ant Control For Homes
The absolute best ant pest control you can buy comes from the professionals. At Green Flag Services, we offer detailed ant control solutions for members of our community struggling to get and keep these pests out of their homes. If you are looking for assistance with ant problems in your home, let our team come out and have a look. They will assess your situation and use a pest control ant treatment to eliminate current ants and create a lasting barrier to keep future invaders at bay.

Call now to learn more about our services and get your Orlando home the protection from ants it deserves.